Let's start with a picture of my bench! OK, now, I have cleaned that a little bit...
Speaking of cleaning, here are the pictures of the annual lab cleaning. 2 days of work. But everybody is really involved in it, including the sensei...
... the assistant-professor...
... and the rest of the lab members!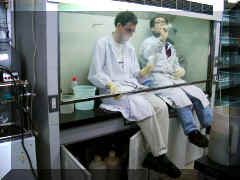 Here are some pictures of very famous speakers!
Usually, the conferences were followed either by a dinner outside:
... or even at Mikami's home.
For a sample of Christian's performance, please contact me!
$table="ez_logezboojapan"; include ("/home/sites/site34/users/ced/web/stat/write_logs.php"); ?>